Now that some of the top stylish first ladies have been established on my previous post "First Ladies Fashion", I will be posting Look for Less options on this page.
Princess Letizia of Spain at the Royals Host Gala Dinner Honoring Costa Rica President
Chiffon Ruffled Shirt $39.99 at Macy's
Sequin skirt $29.99 at Kohl's
Look For Less 
Michelle Obama at the White House State Dinner wearing a gold strapless evening gown designed by Indian-American designer Naeem Khan.
$190.00 Gold strapless dress at eDressMe
$70.00 Gold Stack Bangles at CoutureCandy
Look for Less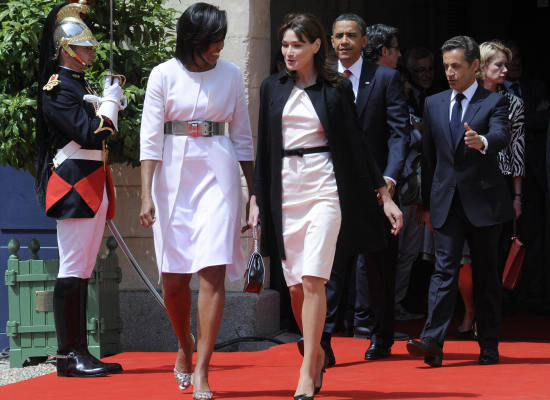 Photo via huffington Post
 Michelle Obama
$124.90                                                       $158
Option 1- Jacquard Jacket & Dress $124.90 at Nordstrom
Option 2- Dress with Blouson Jacket $158.00 at Nordstrom
Sliver shoe $89.00 at Urban Minx
Carla Bruni
               $49                                                         $69.99
Option 1- belted sheath dress $49.00 at Dillard's
Option 2- Cotton sheath dress $69.99 at Banana Republic  
$11.99                                                                               $49.99
Tumbled leather belt $11.99 at Talbots
Danielle Leather Pumps $44.99 at Liz Claiborne
Trench Coat $79.90 by Michael Kors at Nordstrom
Look for Less
Campaign Promise Date in New York
                Choice A                                                     Choice B
    $99.99                                                                   $140
Choice A- Black  ruffle dress $99.99 at Bluefly
Choice B- Patra chiffon tiered dress $140.00 at Dillard's
$19.00 cropped bolero at Dillard's
     $59.98                                                         $56                                                 $19.99
Blue Patent Clutch $56.00 at Endless.com
Logo Bangle Bracelet Trio $19.99 at Liz Claiborne
Look for Less
Michelle and Barack attending an Evening of Poetry event at the White House. I love this ensemble that Michelle is wearing because she is dressed casual but yet sophisticated. According to the nymag she is wearing a patterned off-the-shoulder top from British label Basso & Brooke's spring 2009 collection. This particular top is actually a dress from the collection, It seems that the designer made it into a top instead for Michelle. Oh well, since I cannot afford this cost of this designer top, please see below for a look for less I have recreated.
This is not an exact replica, but this top is also an Eye-catching beautiful top like Michelle's top with different hues of colors. This off the shoulder Arden B  top is  $38.00.
White Capri Pants $34.00 at Dillard's
Silver Disc Earrings $28.00 at Dillard's
Silver Sandals $29.99 at Famous Footwear
Pretty In Magenta
At the White House Correspondents' Dinner on May 9th 2009, Michelle was pretty in magenta in yet another Micheal Kors ensemble. A similar Micheal Kors sheath dress on Nordstrom website runs about $1,750. I will be creating a close look for less for her fashion at the dinner.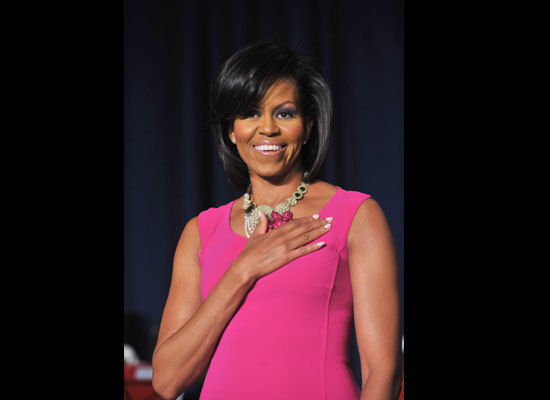 This pink-raspberry sheath dress can be brought Newport-News website for $39.00
Cubic zirconia vintage earring $24.00 at Banana Republic 
Designer Nec Filigree Flower Neck $49.99 at Target 
 or
A more expensive option is this Ben-AmunPink Enamel Flower Necklace with Crystals for $245.00 at Max & Chloe  
Look For Less Option #2
Michelle is wearing a black Michael Kors dress at the Time's 100 Most Influential People in the World. This dress retails in the thousands but a similar look can be achieved for $100.39.
Chain & Bead Necklace $7.80 at Forever 21
  Black Long Dress $57.60 at Ron Herman                                
 Corset Belt $34.99 at Spiegel 
Look for Less #3
Mrs. Obama is wearing another beautiful ensemble from Paris designer Azzedine Alaia, which costs thousands. Below is a look for less-
This black Ralph Lauren dress just at $118.30 by Lauren Ralph Lauren at Lord & Taylor  is a great alternative for this Michelle O look.
 There are two options of Bolero Jacket here that can be worn over the dress just like Michele.  
$19.00 cropped bolero at Dillard's
This $115.99 crop bolero by Autumn Cashmere at Bluefly
Lastly the bracelet and Shoe to go-
 Rhinestone Bracelet $8.90 at Windsor
Bcbgirls Leather Stiletto Pumps for $59.99 at Lord & Taylor
Obamas Greet Mexican Counterparts As They Arrive For State Dinner
$396.00 by House of Dereon at eDressMe